What you need to know about SEXTORTION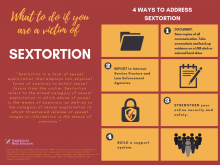 Jane, not her real name, who is 28 years old, said a certain "Peter San Pedro" messaged her on Facebook last January 31 and told her that he possesses some of her nude photos. Jane claimed that the man threatened to send those photos to her family and friends if she continues to ignore his messages asking for a one-night stand. Out of fear and anxiety, Jane decided to block Peter on Facebook. Peter got mad and posted Jane's photos on Facebook.
Jane's story is not different from that of other women who have suffered abuse and violence online, specifically sextortion.