"Violence" Online In India: Cybercrimes Against Women & Minorities on Social Media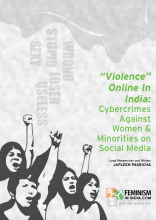 A research study and report by Japleen Parischa of Feminism in India (8 pages). Excerpt from introduction:
"[T]his study found that women themselves have trouble thinking of the attacks they experience on social media platforms as "violent," and are more likely to block or ignore their assailants than report them, while participating less in the online space themselves. Many lack awareness of their legal rights as victims of cyberstalking and other crimes."