Mapping Digital Landscapes of Trans Activism in Central Asia and Eastern Europe.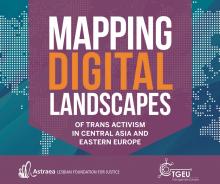 The report provides a regional overview of digital organizing by trans activists* in 26 countries of Central Asia and Eastern Europe (CAEE)**, emphasizing shared patterns of digital usage, barriers to free and safe use of the internet, and resistance strategies to homo/transphobic-motivated censorship, surveillance, and online attacks. It also presents recommendations for funders and tech communities, social media corporations, and government entities.
In CAEE, trans lives are endangered not only by homophobic and transphobic legislation, but also by governments seeking to exert stricter surveillance over civil society by controlling and monitoring internet usage. Restrictions on internet freedom have a disproportionate effect on trans communities in the region who rely on the internet for their activist, personal, and professional lives, making it a critical tool for connecting and movement building.