Impact for What and for Whom? Digital Technologies and Feminist Movement Building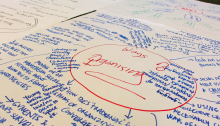 A dialogue between Srilatha Batliwala and "Primavera Violeta".
"I ask Srilatha a challenging question - Is it possible that technologies are creating an illusion of movement building? Are we really achieving change, how can we measure that impact?
There is a seductive power of technologies, Srilatha says. Aren't social networks engineering a sense of impact themselves? How are we feminists interpreting our shares and likes? What do these measuring tools really tell us? What other power dynamics exist within our movements, between personalities? Does that contribute to build our
collective power?
Stop. Step back. [...] Let's place again the lives of women at the center and ask ourselves what does change mean for us now. Has anything changed in the life of a single women on the ground in their reality? That for Srilatha, will always be the core question when we think about impact: "Impact for what and impact for whom?""