Hear Me Too Podcast Ep 6: Not Safe Online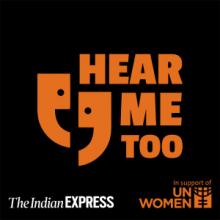 The internet is supposed to be the ultimate leveller. Once you have access to the internet you have a space to speak, to think, to learn. Today, however, the infinite possibilities of the internet seem a distant dream as we are swarmed by trolls and hate speech and fake news. How do women do in this world? What kinds of violence do they face? What can they do about it? What does it cost? We speak to journalist Swati Chaturvedi, lawyer Satyajit Sarna, and activists Japleen Pasricha and Debarati Halder to find out.
Express Audio, in collaboration with UN Women, brings you Hear Me Too, a podcast that explores the extent of violence against women in India, urban and rural, and attempts to understand the second and third level effects it has on our society and economy.