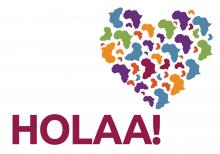 HOLAA! is a Pan-Africanist digital platform that focuses sex and sexuality on the continent through archiving stories, knowledge production and edutainment, digital community building and creating spaces that deal with safe sex and pleasure and other aspects of the politics and presence of sexuality. HOLAA does this through publication of fictional and nonfictional works by non-normative/queer women and gender non-conforming persons from around the African continent and within the African diaspora, creation of conversations and spaces online and offline, workshops as well as through the production of materials.
HOLAA! actively uses the digital realm to start discussions, disseminate information and re-write the narratives about around the sensuality, sex and sexuality of African existences look like and what it means to those who live it.
Our Website, Twitter, Instagram and Facebook.