As a visually impaired woman, I navigate two worlds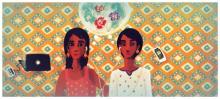 A personal essay by Payal Kapoor for Skin Stories.
"Many little things make disability an excluding factor. Those gestures I
never catch, eye contact I never make, those stories of their lives,
loves and children I will never be able to catch up to… then there are
those increasingly regular virtual conversations that surround memes or
silent videos that are everywhere day in and out. Everybody's laughing
about something that I've no clue of. It is both annoying and dismaying
when you hear your screen reader say 'image' and nothing else tells you
what is in it. A whole thread of conversations then follows, on how
fantastic whatever was in that image I didn't see, is!"
Photo credit: Upasana Agarwal